Wipe away the day and embrace brighter eyes
Eyelid wipes are pre-moistened wipes specifically designed to clean and soothe the sensitive skin around your eyes, helping to remove debris, makeup, and excess oils that can accumulate on your eyelids and eyelashes. These wipes are made from a soft, non-woven material and infused with a gentle cleansing solution containing ingredients such as chamomile, tea tree oil, or aloe vera. Eyelid wipes can be used to alleviate a range of conditions affecting the eyelids, including blepharitis, dry eye syndrome, and meibomian gland dysfunction, as well as for contact lens wearers or anyone seeking gentle and effective eye makeup removal.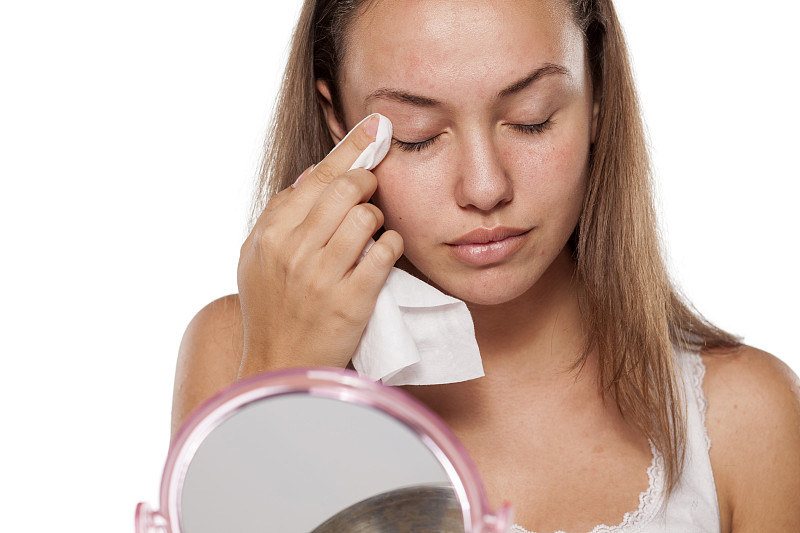 Apa yang kami rekomendasikan
The grammage of eyelid wipes can also vary but is usually in the range of 30 to 60 gsm (grams per square meter). This grammage is sufficient to ensure that the wipes are soft and gentle on the skin but also have enough strength to hold the cleansing solution.
---
10/30/80/100/120/160 buah/bungkus
Typically, they range in size from 20 cm x 30 cm (8 inches x 12 inches) to 30 cm x 40 cm (12 inches x 16 inches). However, there may be variations based on the intended use and application of the washcloth. Some manufacturers may offer smaller or larger sizes to meet the needs of specific users or situations.
The number of pieces per inner pack can also vary but is typically between 10 to 30 sachets per pack. This configuration makes it convenient for people to carry a few sachets in their purse or pocket for use throughout the day. The number of inner packs per outer pack can vary as well but is typically between one to six inner packs per outer pack. This allows manufacturers to offer different quantities of eyelid wipes to meet the needs of different consumers.
Eyelid wipes are infused with a gentle cleansing solution that can contain a variety of ingredients, depending on the product. Common ingredients include tea tree oil, chamomile, aloe vera, and hyaluronic acid, which are all known for their soothing and hydrating properties. The solution is designed to remove dirt, makeup, and excess oil from the eyelids and eyelashes while also providing hydration and relief to the skin.
ISO 9001:2015 - Quality Management System certification ISO 13485:2016 - Medical Devices Quality Management System certification FDA clearance - In the United States, the U.S. Food and Drug Administration (FDA) regulates some types of adult washcloths as medical devices, so clearance may be required before they can be sold. CE marking - A mandatory conformity marking for products sold in the European Economic Area (EEA) to indicate compliance with health, safety, and environmental protection standards. REACH compliance - Compliance with the European Union's Registration, Evaluation, Authorization and Restriction of Chemicals (REACH) regulation, which governs the use of hazardous substances in products.

Didirikan pada tahun 2002. Qimei Group adalah produsen profesional dan pemasok tisu basah dan produk non woven. Dengan menawarkan berbagai solusi kepada pelanggan kami di pasar konsumen dan industri, produk Tisu Basah kami termasuk tisu bayi, tisu medis, tisu kosmetik, tisu industri, tisu perawatan pribadi, tisu pembersih rumah tangga, tisu medis, tisu hewan peliharaan dan tisu mobil, dll. Kami telah memperoleh hampir semua sertifikat yang relevan seperti GMP Kosmetik, ISO 9001, ISO13485, BSCI, ISO22716 dan FDA.
Dengan lebih dari 20 tahun pengalaman dalam tisu basah OEM/ODM, kami dapat bekerja sama dengan klien kami untuk mengembangkan produk baru dengan fitur baru seperti bahan sintetis/alami baru atau desain kemasan, dll.
Jika Anda memiliki pertanyaan tentang produk atau layanan manufaktur kami, silakan isi formulir untuk menghubungi kami, kami akan menjawab Anda dalam 8 jam!
1
I'm new to the wipes business, can you help me?
Tulis pesan kepada kami sekarang, kami yakin kami dapat membantu!
2
What is the MOQ of wet wipes?
3
Berapa lama untuk mendapatkan sampel?
Dibutuhkan sekitar 3-7 hari setelah menerima detail desain dan persyaratan khusus Anda
4
Can you make */*/*/alcohol free/sensitive wet wipes?
Kami dapat membuat semua jenis tisu basah, kami dapat merekomendasikan Anda detail setelah mengetahui tentang kebutuhan Anda, atau Anda memiliki formulasi sendiri, kami akan mendukung layanan sampel gratis.
Kami mungkin membutuhkan waktu sedikit lebih lama untuk pesanan percobaan pertama karena konfirmasi sampel, atau kami dapat menyelesaikan produksi selama 15-20 hari setelah menerima setoran.