Merasa segar dan bersih di mana pun kehidupan membawa Anda
___Waterproof makeup Wipes
Waterproof makeup wipes are pre-moistened disposable wipes designed to remove waterproof and long-wear makeup from the face and eye area. They are formulated with a combination of ingredients that effectively dissolve and remove makeup while being gentle on the skin.
Waterproof makeup can be difficult to remove with regular cleansers and makeup removers, as it is designed to be resistant to water and sweat. Waterproof makeup wipes are designed to effectively break down and remove even the most stubborn waterproof makeup, without requiring harsh scrubbing or tugging on the delicate skin around the eyes.
Waterproof makeup wipes are convenient and easy to use, making them a popular choice for people who wear waterproof makeup regularly or for special occasions. They are typically available in a variety of formulations to suit different skin types, and may be fragrance-free or scented with a pleasant scent.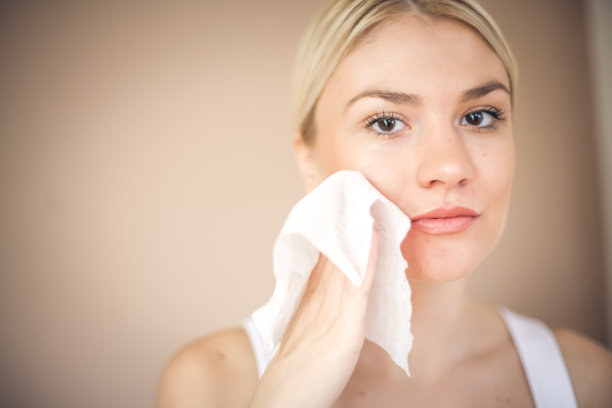 Apa yang kami rekomendasikan
Spunlace onwoven Jenis Kain: Poliester,Bahan Campuran Poli-Viscose, Serat Bambu, Pulp Kayu (Dapat Dibilas), Serat Kapas atau Kedelai (Biodegradable) Datar atau Bertekstur (LOGO Anda Sendiri tersedia) Berat: 30-80gsm
---
1/10/30/80/100/120/160 buah/bungkus
The most common size of Waterproof makeup wipes around from 6 to 8 inches (15 to 20 cm) in width and length. This size is convenient for single-use and provides enough surface area to clean and freshen the external genital area. However, some intimate wipes may be smaller or larger than this standard size to cater to specific preferences or needs of consumers.
1. Kantong plastik yang dapat ditutup kembali: Ini adalah jenis kemasan lap basah yang paling umum. Itu terbuat dari plastik dan memiliki strip yang dapat ditutup kembali di bagian atas untuk menjaga agar tisu tetap segar dan lembab. 2. Wadah tutup flip-top: Jenis kemasan ini terdiri dari wadah plastik dengan tutup flip-top yang dapat dibuka dan ditutup untuk mengakses tisu. 3. Soft pack dengan tutup flip-top plastik: Mirip dengan wadah tutup flip-top, kemasan ini hadir dalam soft pack dan memiliki tutup flip-top plastik untuk memudahkan akses. 4. Dispenser pop-up: Jenis kemasan ini menampilkan mekanisme pengeluaran pop-up yang mengeluarkan satu lap pada satu waktu. 5. Paket perjalanan: Kemasan kecil yang dirancang untuk digunakan saat bepergian, seringkali dilengkapi dengan penutup jepret plastik. 6. Kemasan sekali pakai: Tisu basah ini hadir dalam kemasan kecil bersegel yang nyaman untuk perjalanan atau aktivitas luar ruangan. 7. Kantong isi ulang: Kemasan berukuran lebih besar ini dirancang untuk mengisi ulang wadah tisu basah lainnya, dan biasanya memiliki bukaan yang dapat ditutup kembali.
Water: Water is typically the main ingredient in makeup wipes, as it provides the base for the solution that is used to clean the skin. Surfactants: Surfactants are used to break down and dissolve makeup, allowing it to be wiped away. Common surfactants used in makeup wipes include cocamidopropyl betaine, decyl glucoside, and polysorbate 20. Emollients: Emollients are used to moisturize and soothe the skin, preventing it from drying out. Common emollients used in makeup wipes include glycerin, aloe vera, and panthenol. Preservatives: Preservatives may be added to makeup wipes to prevent bacterial growth and prolong the shelf life of the product. Common preservatives used in cosmetic products include phenoxyethanol, methylparaben, and propylparaben. Fragrance: Fragrance may be added to makeup wipes to give them a pleasant scent. However, some people may be sensitive to fragrances and may prefer fragrance-free products. Other ingredients: Other ingredients that may be included in the formulation of makeup wipes include antioxidants, anti-irritants, and skin-conditioning agents.
Good Manufacturing Practices (GMP): GMP is a set of guidelines and standards that ensure the quality and safety of products. It covers all aspects of the manufacturing process, including the facilities, equipment, personnel, and documentation. Manufacturers of makeup wipes may need to adhere to GMP standards to ensure that their products are safe and effective. ISO 22716: ISO 22716 is a standard for the production, control, storage, and shipment of cosmetic products. This standard covers all aspects of the manufacturing process, including personnel, facilities, and documentation. Compliance with this standard can help ensure that the manufacturer is producing safe and high-quality products. FDA Regulations: If the manufacturer is selling their products in the United States, they will need to comply with the regulations set forth by the U.S. Food and Drug Administration (FDA). The FDA regulates cosmetics under the Federal Food, Drug, and Cosmetic Act (FD&C Act) and requires manufacturers to ensure the safety of their products through proper testing and labeling. Cruelty-Free Certification: Some consumers may prefer to purchase makeup wipes that have not been tested on animals. A manufacturer may choose to obtain a cruelty-free certification from a third-party organization to demonstrate that their products are not tested on animals. Vegan Certification: Similarly, some consumers may prefer to purchase makeup wipes that are free from animal-derived ingredients. A manufacturer may choose to obtain a vegan certification to demonstrate that their products are free from animal products.

Didirikan pada tahun 2002. Qimei Group adalah produsen profesional dan pemasok tisu basah dan produk non woven. Dengan menawarkan berbagai solusi kepada pelanggan kami di pasar konsumen dan industri, produk Tisu Basah kami termasuk tisu bayi, tisu medis, tisu kosmetik, tisu industri, tisu perawatan pribadi, tisu pembersih rumah tangga, tisu medis, tisu hewan peliharaan dan tisu mobil, dll. Kami telah memperoleh hampir semua sertifikat yang relevan seperti GMP Kosmetik, ISO 9001, ISO13485, BSCI, ISO22716 dan FDA.
Dengan lebih dari 20 tahun pengalaman dalam tisu basah OEM/ODM, kami dapat bekerja sama dengan klien kami untuk mengembangkan produk baru dengan fitur baru seperti bahan sintetis/alami baru atau desain kemasan, dll.
Jika Anda memiliki pertanyaan tentang produk atau layanan manufaktur kami, silakan isi formulir untuk menghubungi kami, kami akan menjawab Anda dalam 8 jam!
1
Saya baru di bisnis tisu basah, bisakah Anda membantu saya?
Tulis pesan kepada kami sekarang, kami yakin kami dapat membantu!
3
Berapa lama untuk mendapatkan sampel?
Dibutuhkan sekitar 3-7 hari setelah menerima detail desain dan persyaratan khusus Anda
4
Bisakah Anda membuat tisu intim */*/*/alkohol bebas/sensitif?
Kami dapat membuat semua jenis tisu basah, kami dapat merekomendasikan Anda detail setelah mengetahui tentang kebutuhan Anda, atau Anda memiliki formulasi sendiri, kami akan mendukung layanan sampel gratis.
Kami mungkin membutuhkan waktu sedikit lebih lama untuk pesanan percobaan pertama karena konfirmasi sampel, atau kami dapat menyelesaikan produksi selama 15-20 hari setelah menerima setoran.