Wipe away the day and embrace brighter eyes
Eyelid wipes are pre-moistened wipes specifically designed to clean and soothe the sensitive skin around your eyes, helping to remove debris, makeup, and excess oils that can accumulate on your eyelids and eyelashes. These wipes are made from a soft, non-woven material and infused with a gentle cleansing solution containing ingredients such as chamomile, tea tree oil, or aloe vera. Eyelid wipes can be used to alleviate a range of conditions affecting the eyelids, including blepharitis, dry eye syndrome, and meibomian gland dysfunction, as well as for contact lens wearers or anyone seeking gentle and effective eye makeup removal.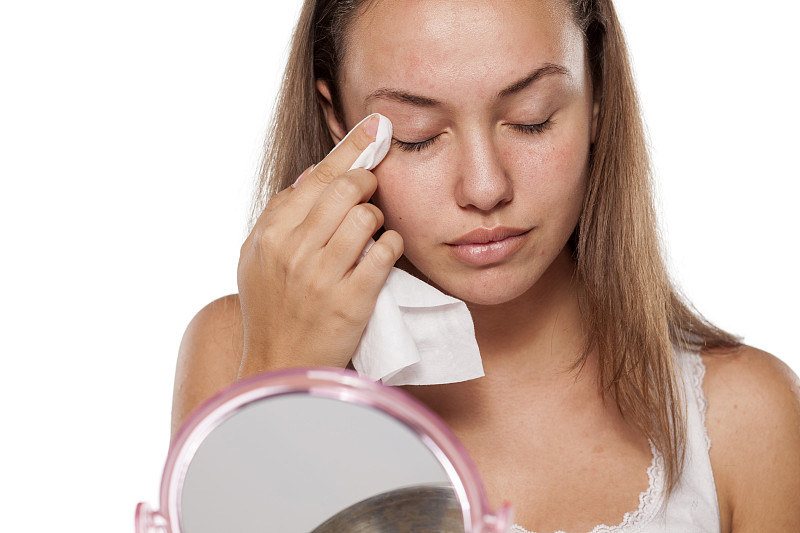 The grammage of eyelid wipes can also vary but is usually in the range of 30 to 60 gsm (grams per square meter). This grammage is sufficient to ensure that the wipes are soft and gentle on the skin but also have enough strength to hold the cleansing solution.
---
10/30/80/100/120/160個/パック
Typically, they range in size from 20 cm x 30 cm (8 inches x 12 inches) to 30 cm x 40 cm (12 inches x 16 inches). However, there may be variations based on the intended use and application of the washcloth. Some manufacturers may offer smaller or larger sizes to meet the needs of specific users or situations.
The number of pieces per inner pack can also vary but is typically between 10 to 30 sachets per pack. This configuration makes it convenient for people to carry a few sachets in their purse or pocket for use throughout the day. The number of inner packs per outer pack can vary as well but is typically between one to six inner packs per outer pack. This allows manufacturers to offer different quantities of eyelid wipes to meet the needs of different consumers.
Eyelid wipes are infused with a gentle cleansing solution that can contain a variety of ingredients, depending on the product. Common ingredients include tea tree oil, chamomile, aloe vera, and hyaluronic acid, which are all known for their soothing and hydrating properties. The solution is designed to remove dirt, makeup, and excess oil from the eyelids and eyelashes while also providing hydration and relief to the skin.
ISO 9001:2015 - Quality Management System certification ISO 13485:2016 - Medical Devices Quality Management System certification FDA clearance - In the United States, the U.S. Food and Drug Administration (FDA) regulates some types of adult washcloths as medical devices, so clearance may be required before they can be sold. CE marking - A mandatory conformity marking for products sold in the European Economic Area (EEA) to indicate compliance with health, safety, and environmental protection standards. REACH compliance - Compliance with the European Union's Registration, Evaluation, Authorization and Restriction of Chemicals (REACH) regulation, which governs the use of hazardous substances in products.

Qimei Group は 2002 年に設立され、ウェットティッシュと不織布製品の専門メーカーおよびサプライヤーです。消費者市場と産業市場の両方のお客様にさまざまなソリューションを提供することで、ベビーワイプ、医療ワイプ、化粧品ワイプ、工業用ワイプ、パーソナルケアワイプ、家庭用ワイプ、医療用ワイプ、ペット用ワイプ、車用ワイプなどのウェットワイプ製品を提供しています。当社はGMP化粧品、ISO 9001、ISO13485、BSCI、ISO22716、FDAなどのほぼすべての関連認証を取得しています。
OEM/ODM ウェットワイプにおける 20 年以上の経験により、当社はお客様と協力して、新しい合成/天然素材やパッケージデザインなどの新しい機能を備えた新製品を開発することができます。
当社の製品または製造サービスについてご質問がある場合は、お問い合わせフォームにご記入ください。8時間以内に返信いたします。
1
I'm new to the wipes business, can you help me?
今すぐメッセージを書いてください。きっとお役に立てると思います!
2
What is the MOQ of wet wipes?
デザインの詳細と特別な要件を受け取ってから約3〜7日かかります
4
Can you make */*/*/alcohol free/sensitive wet wipes?
私たちはあらゆるタイプのウェットワイプを作ることができます.あなたの要件を知った後に詳細をお勧めするか、独自の処方を持っている場合は無料サンプルサービスをサポートします.
サンプル確認のため、最初の試用注文にはもう少し時間がかかる場合があります。または、入金を受け取ってから15〜20日で生産を完了することができます。