Qimei Group is a professional manufacturer of makeup wipes, with a history that dates back to 2002. Our company offers various solutions to customers in both the consumer and service markets, with a range of Makeup Wipes products including face cleaning and body cleaning wipes. We take pride in having obtained almost all relevant certificates in the industry such as GMP Cosmetic, ISO 9001, ISO13485, BSCI, ISO22716, and FDA, which attests to our commitment to quality and safety.
With over 20 years of experience in OEM/ODM beauty wipes, we are well-equipped to work closely with our clients, who are leading brands in the USA, to develop new products with innovative features such as new synthetic or natural materials, as well as packaging designs. Our team is dedicated to providing the best service and support to ensure that our clients' needs and expectations are met with every project.
Makeup wipes are pre-moistened disposable wipes that are designed to remove makeup and impurities from the skin. They are typically made with a non-woven fabric or cotton material that is infused with a cleansing solution, which may include ingredients such as water, oils, surfactants, and preservatives. Makeup wipes come in various shapes, sizes, and types, each tailored to specific needs, such as removing waterproof makeup, exfoliating, or moisturizing the skin. They are a popular alternative to traditional cleansers as they are convenient, easy to use, and do not require water or rinsing.
Cleansing wipes
Most common type of makeup wipes and are designed to remove makeup, dirt, and oil from the skin
Micellar wipes
Micellar wipes contain micelles, which are tiny cleansing molecules that attract and remove dirt, oil, and makeup from the skin
Moisturizing wipes
Contain hydrating ingredients to help soothe and nourish the skin while removing makeup
Oil-based wipes
Oil-based wipes are designed to remove stubborn makeup, such as waterproof mascara or long-lasting lipstick
Brightening wipes
Contain ingredients that help to brighten and even out skin tone
Exfoliating wipes
Designed to exfoliate the skin, removing dead skin cells and revealing smoother, brighter skin
Nail Polish Remover Wipes
Designed to remove nail polish from fingernails or toenails
Anti-aging wipes
Designed to help reduce the signs of aging, such as fine lines and wrinkles
Nonwoven Fabric Type: Polyester,Poly -Viscose Blend material, Bamboo Fiber, Wood Pulp(Flushable), Cotton or Soy Fiber(Biodegradable) Flat or Textured( Your Own LOGO is available) Grammage: 30-70gsm
---
10/30/80/100 pcs/pack
Some wipes may be small and intended for use on small surfaces or while on-the-go, while others may be larger and suitable for cleaning larger areas. In general, wipes are designed to be easy to handle and use for cleaning purposes.
1. Plastic resealable bag: This is the most common type of wet wipe packaging. It is made of plastic and has a resealable strip on top to keep the wipes fresh and moist. 2. Flip-top lid container: This type of packaging consists of a plastic container with a flip-top lid that can be opened and closed to access the wipes. 3. Soft pack with plastic flip-top lid: Similar to the flip-top lid container, this packaging comes in a soft pack and has a plastic flip-top lid for easy access. 4. Pop-up dispenser: This type of packaging features a pop-up dispensing mechanism that pulls out one wipe at a time. 5. Travel pack: A small packaging designed for on-the-go use, it often comes with a plastic snap closure. 6. Single-use packaging: These wet wipes come in small, sealed packets which are convenient for travel or outdoor activities. 7. Refill bag: This larger size packaging is designed to refill other wet wipe containers, and usually has a resealable opening.
there can be many different formulations for good quality makeup wipes depending on the intended purpose, skin type, and desired benefits. Some common types of formulations may include oil-based or water-based formulas, alcohol-free or alcohol-based formulas, natural or synthetic ingredients, and fragrance-free or scented formulas. Additionally, some makeup wipes may have added ingredients like vitamin C, hyaluronic acid, or aloe vera to provide additional skincare benefits. It ultimately depends on a consumer's personal preferences and needs.
1. Good Manufacturing Practice (GMP) Certification: This certification ensures that the product is manufactured according to the highest quality standards. 2. Safety Data Sheet (SDS): This document provides information on the chemical composition of the product and its potential hazards. 3. Cosmetic Product Notification Portal (CPNP): This is specifically required for selling cosmetic products in the European Union. 4. FDA Registration: In the United States, cosmetics are not subject to pre-market approval by the FDA, but manufacturers are required to register their facilities and submit a list of their products.

EDI Utrapure Water Device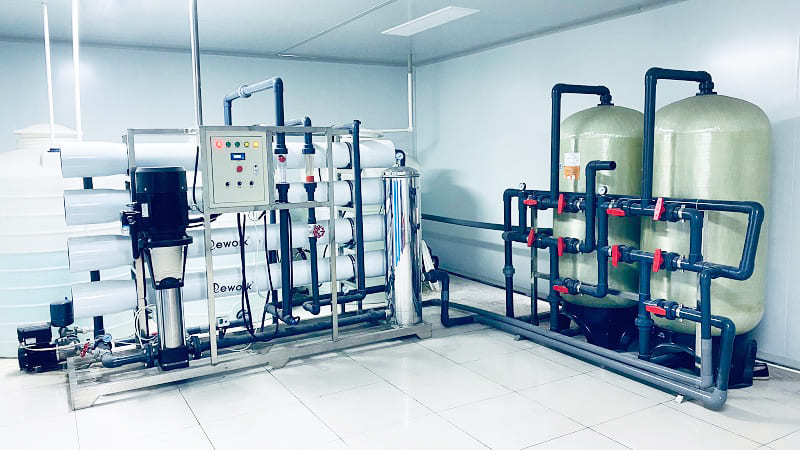 EDI (Electrodeionization) is a process used to purify water to ultrapure standards by removing ions and other impurities. EDI ultrapure water devices use a combination of ion exchange resins and selective membranes to remove dissolved minerals, organic compounds, and other contaminants from the water. The purified water produced by these devices is commonly used in high-tech manufacturing processes such as semiconductor fabrication, pharmaceutical production, and laboratory research.
In the case of make wipes production, EDI ultrapure water can be used to ensure the purity of the water used in the production process. This is important because any impurities in the water can potentially lead to skin irritations or other health problems. The use of ultrapure water can also improve the quality and consistency of the makeup wipes, which is important for maintaining customer satisfaction.
If you have any question about our products or manufacturing service, kindly fill the form to contact us, we will reply you in 8 hours! 
1
I'm new to the makeup wipes business, can you help me?
Write us a message right now, we're sure that we can help!
2
What is the MOQ of makeup wipes?
3
How long to get a sample?
It takes about 3-7 days after receiving your design details and special requirement
4
Can you make */*/*/alcohol free/sensitive makeup wipes?
We can make all types of wet wipes, we can recommend you details after know about your requirement, or you have your own formulation, we will support free sample service.
5
What is the delivery time?
We may takes little longer for the first try order because of sample confirmation, or we can finished production for 15-20 days after receiving deposit.