Wipe away the day and embrace brighter eyes
Eyelid wipes are pre-moistened wipes specifically designed to clean and soothe the sensitive skin around your eyes, helping to remove debris, makeup, and excess oils that can accumulate on your eyelids and eyelashes. These wipes are made from a soft, non-woven material and infused with a gentle cleansing solution containing ingredients such as chamomile, tea tree oil, or aloe vera. Eyelid wipes can be used to alleviate a range of conditions affecting the eyelids, including blepharitis, dry eye syndrome, and meibomian gland dysfunction, as well as for contact lens wearers or anyone seeking gentle and effective eye makeup removal.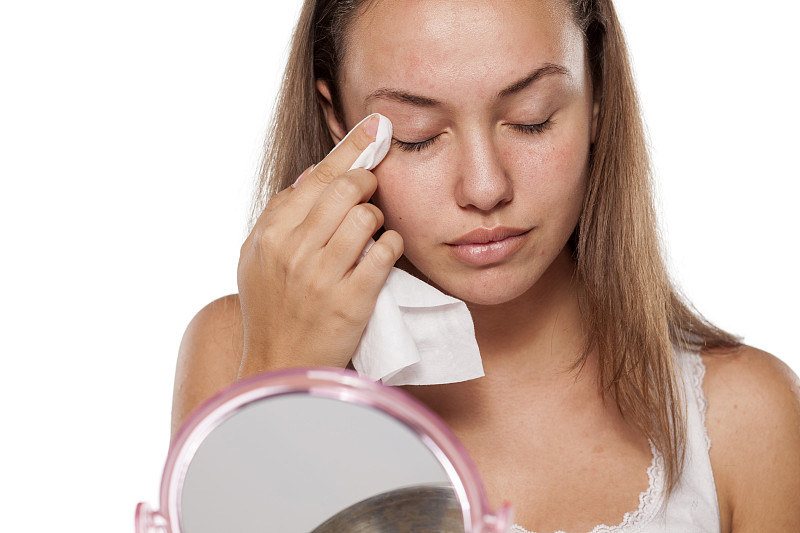 The grammage of eyelid wipes can also vary but is usually in the range of 30 to 60 gsm (grams per square meter). This grammage is sufficient to ensure that the wipes are soft and gentle on the skin but also have enough strength to hold the cleansing solution.
---
10/30/80/100/120/160 Stück/Pack
Typically, they range in size from 20 cm x 30 cm (8 inches x 12 inches) to 30 cm x 40 cm (12 inches x 16 inches). However, there may be variations based on the intended use and application of the washcloth. Some manufacturers may offer smaller or larger sizes to meet the needs of specific users or situations.
The number of pieces per inner pack can also vary but is typically between 10 to 30 sachets per pack. This configuration makes it convenient for people to carry a few sachets in their purse or pocket for use throughout the day. The number of inner packs per outer pack can vary as well but is typically between one to six inner packs per outer pack. This allows manufacturers to offer different quantities of eyelid wipes to meet the needs of different consumers.
Eyelid wipes are infused with a gentle cleansing solution that can contain a variety of ingredients, depending on the product. Common ingredients include tea tree oil, chamomile, aloe vera, and hyaluronic acid, which are all known for their soothing and hydrating properties. The solution is designed to remove dirt, makeup, and excess oil from the eyelids and eyelashes while also providing hydration and relief to the skin.
ISO 9001:2015 - Quality Management System certification ISO 13485:2016 - Medical Devices Quality Management System certification FDA clearance - In the United States, the U.S. Food and Drug Administration (FDA) regulates some types of adult washcloths as medical devices, so clearance may be required before they can be sold. CE marking - A mandatory conformity marking for products sold in the European Economic Area (EEA) to indicate compliance with health, safety, and environmental protection standards. REACH compliance - Compliance with the European Union's Registration, Evaluation, Authorization and Restriction of Chemicals (REACH) regulation, which governs the use of hazardous substances in products.

Gegründet im Jahr 2002. Die Qimei Group ist ein professioneller Hersteller und Lieferant von Feuchttüchern und Vliesprodukten. Indem wir unseren Kunden sowohl auf dem Verbraucher- als auch auf dem Industriemarkt verschiedene Lösungen anbieten, werden unsere Wet Wipes-Produkte, darunter Babytücher, medizinische Tücher, Kosmetiktücher, industrielle Tücher, Körperpflegetücher, Haushaltsreinigungstücher, medizinische Tücher, Tücher für Haustiere und Autowischtücher usw Wir haben fast alle relevanten Zertifikate wie GMP Cosmetic, ISO 9001, ISO13485, BSCI, ISO22716 und FDA erhalten.
Mit über 20 Jahren Erfahrung mit OEM/ODM-Feuchttüchern sind wir in der Lage, mit unseren Kunden zusammenzuarbeiten, um neue Produkte mit neuen Merkmalen wie neuen synthetischen/natürlichen Materialien oder Verpackungsdesigns usw. zu entwickeln.
Wenn Sie Fragen zu unseren Produkten oder unserem Fertigungsservice haben, füllen Sie bitte das Formular aus, um uns zu kontaktieren. Wir werden Ihnen innerhalb von 8 Stunden antworten!
1
I'm new to the wipes business, can you help me?
Schreiben Sie uns gleich eine Nachricht, wir sind uns sicher, dass wir helfen können!
2
What is the MOQ of wet wipes?
3
Wie lange, um eine Probe zu bekommen?
Es dauert ungefähr 3-7 Tage, nachdem Sie Ihre Designdetails und speziellen Anforderungen erhalten haben
4
Can you make */*/*/alcohol free/sensitive wet wipes?
Wir können alle Arten von Feuchttüchern herstellen, wir können Ihnen Details empfehlen, nachdem Sie Ihre Anforderungen kennen, oder Sie haben Ihre eigene Formulierung, wir unterstützen den kostenlosen Musterservice.
Aufgrund der Musterbestätigung dauert es möglicherweise etwas länger für die erste Versuchsbestellung, oder wir können die Produktion 15-20 Tage nach Erhalt der Anzahlung abschließen.