Feel fresh and clean no matter where life takes you
___Waterproof makeup Wipes
Waterproof makeup wipes are pre-moistened disposable wipes designed to remove waterproof and long-wear makeup from the face and eye area. They are formulated with a combination of ingredients that effectively dissolve and remove makeup while being gentle on the skin.
Waterproof makeup can be difficult to remove with regular cleansers and makeup removers, as it is designed to be resistant to water and sweat. Waterproof makeup wipes are designed to effectively break down and remove even the most stubborn waterproof makeup, without requiring harsh scrubbing or tugging on the delicate skin around the eyes.
Waterproof makeup wipes are convenient and easy to use, making them a popular choice for people who wear waterproof makeup regularly or for special occasions. They are typically available in a variety of formulations to suit different skin types, and may be fragrance-free or scented with a pleasant scent.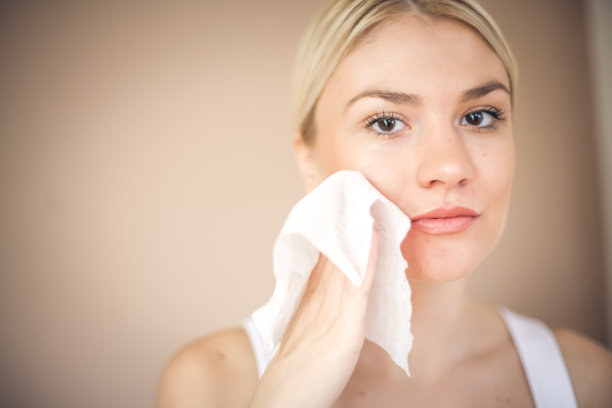 Spunlace onwoven Fabric Type: Polyester,Poly -Viscose Blend material, Bamboo Fiber, Wood Pulp(Flushable), Cotton or Soy Fiber(Biodegradable)
Flach oder strukturiert (Ihr eigenes LOGO ist verfügbar)
Grammage: 30-80gsm
---
1/10/30/80/100/120/160 pcs/pack
The most common size of Waterproof makeup wipes around from 6 to 8 inches (15 to 20 cm) in width and length. This size is convenient for single-use and provides enough surface area to clean and freshen the external genital area. However, some intimate wipes may be smaller or larger than this standard size to cater to specific preferences or needs of consumers.
1. Wiederverschließbarer Plastikbeutel: Dies ist die häufigste Art der Verpackung von Feuchttüchern. Es besteht aus Kunststoff und hat oben einen wiederverschließbaren Streifen, um die Tücher frisch und feucht zu halten. 2. Flip-Top-Deckelbehälter: Diese Verpackungsart besteht aus einem Kunststoffbehälter mit einem Flip-Top-Deckel, der geöffnet und geschlossen werden kann, um an die Tücher zu gelangen. 3. Softpack mit Flip-Top-Deckel aus Kunststoff: Ähnlich wie der Flip-Top-Deckelbehälter wird diese Verpackung in einem Softpack geliefert und hat einen Flip-Top-Deckel aus Kunststoff für einfachen Zugriff. 4. Pop-up-Spender: Diese Verpackungsart verfügt über einen Pop-up-Spendermechanismus, der jeweils ein Tuch herauszieht. 5. Reisepaket: Eine kleine Verpackung für unterwegs, oft mit einem Schnappverschluss aus Kunststoff. 6. Einwegverpackung: Diese Feuchttücher werden in kleinen, versiegelten Päckchen geliefert, die praktisch für Reisen oder Outdoor-Aktivitäten sind. 7. Nachfüllbeutel: Diese größere Verpackung dient zum Nachfüllen anderer Feuchttuchbehälter und hat normalerweise eine wiederverschließbare Öffnung.
Water: Water is typically the main ingredient in makeup wipes, as it provides the base for the solution that is used to clean the skin. Surfactants: Surfactants are used to break down and dissolve makeup, allowing it to be wiped away. Common surfactants used in makeup wipes include cocamidopropyl betaine, decyl glucoside, and polysorbate 20. Emollients: Emollients are used to moisturize and soothe the skin, preventing it from drying out. Common emollients used in makeup wipes include glycerin, aloe vera, and panthenol. Preservatives: Preservatives may be added to makeup wipes to prevent bacterial growth and prolong the shelf life of the product. Common preservatives used in cosmetic products include phenoxyethanol, methylparaben, and propylparaben. Fragrance: Fragrance may be added to makeup wipes to give them a pleasant scent. However, some people may be sensitive to fragrances and may prefer fragrance-free products. Other ingredients: Other ingredients that may be included in the formulation of makeup wipes include antioxidants, anti-irritants, and skin-conditioning agents.
Good Manufacturing Practices (GMP): GMP is a set of guidelines and standards that ensure the quality and safety of products. It covers all aspects of the manufacturing process, including the facilities, equipment, personnel, and documentation. Manufacturers of makeup wipes may need to adhere to GMP standards to ensure that their products are safe and effective. ISO 22716: ISO 22716 is a standard for the production, control, storage, and shipment of cosmetic products. This standard covers all aspects of the manufacturing process, including personnel, facilities, and documentation. Compliance with this standard can help ensure that the manufacturer is producing safe and high-quality products. FDA Regulations: If the manufacturer is selling their products in the United States, they will need to comply with the regulations set forth by the U.S. Food and Drug Administration (FDA). The FDA regulates cosmetics under the Federal Food, Drug, and Cosmetic Act (FD&C Act) and requires manufacturers to ensure the safety of their products through proper testing and labeling. Cruelty-Free Certification: Some consumers may prefer to purchase makeup wipes that have not been tested on animals. A manufacturer may choose to obtain a cruelty-free certification from a third-party organization to demonstrate that their products are not tested on animals. Vegan Certification: Similarly, some consumers may prefer to purchase makeup wipes that are free from animal-derived ingredients. A manufacturer may choose to obtain a vegan certification to demonstrate that their products are free from animal products.

Gegründet im Jahr 2002. Die Qimei Group ist ein professioneller Hersteller und Lieferant von Feuchttüchern und Vliesprodukten. Indem wir unseren Kunden sowohl auf dem Verbraucher- als auch auf dem Industriemarkt verschiedene Lösungen anbieten, werden unsere Wet Wipes-Produkte, darunter Babytücher, medizinische Tücher, Kosmetiktücher, industrielle Tücher, Körperpflegetücher, Haushaltsreinigungstücher, medizinische Tücher, Tücher für Haustiere und Autowischtücher usw Wir haben fast alle relevanten Zertifikate wie GMP Cosmetic, ISO 9001, ISO13485, BSCI, ISO22716 und FDA erhalten.
Mit über 20 Jahren Erfahrung mit OEM/ODM-Feuchttüchern sind wir in der Lage, mit unseren Kunden zusammenzuarbeiten, um neue Produkte mit neuen Merkmalen wie neuen synthetischen/natürlichen Materialien oder Verpackungsdesigns usw. zu entwickeln.
Wenn Sie Fragen zu unseren Produkten oder unserem Fertigungsservice haben, füllen Sie bitte das Formular aus, um uns zu kontaktieren. Wir werden Ihnen innerhalb von 8 Stunden antworten!
1
I'm new to the wet wipes business, can you help me?
Schreiben Sie uns gleich eine Nachricht, wir sind uns sicher, dass wir helfen können!
2
What is the MOQ of intimate wipes?
3
Wie lange, um eine Probe zu bekommen?
Es dauert ungefähr 3-7 Tage, nachdem Sie Ihre Designdetails und speziellen Anforderungen erhalten haben
4
Can you make */*/*/alcohol free/sensitive intimate wipes?
Wir können alle Arten von Feuchttüchern herstellen, wir können Ihnen Details empfehlen, nachdem Sie Ihre Anforderungen kennen, oder Sie haben Ihre eigene Formulierung, wir unterstützen den kostenlosen Musterservice.
Aufgrund der Musterbestätigung dauert es möglicherweise etwas länger für die erste Versuchsbestellung, oder wir können die Produktion 15-20 Tage nach Erhalt der Anzahlung abschließen.