Qimei Group is an experienced and professional OEM/ODM manufacturer of water wipes . We offer high quality water wipes solutions to customers, The company has obtained several certificates, such as GMP Cosmetic, ISO 9001, ISO13485, BSCI, ISO22716, and FDA, indicating our commitment to meeting high standards of quality, safety, and environmental responsibility.
With over 20 years of experience in OEM/ODM wet wipes, Qimei Group works with leading brands in the USA to develop new products with new features such as synthetic/natural materials or packaging designs. This demonstrates their dedication to innovation and close collaboration with clients to meet their specific needs.
Water Wipes are a godsend for new parents who want to keep their baby's skin clean and fresh without exposing it to harsh chemicals. These innovative wipes are made up of an impressive 99.5% water and just a touch of nature extract, making them one of the purest and gentlest options on the market. You can feel good knowing that you're not exposing your little one to any harmful substances that could irritate their delicate skin or cause an allergic reaction.
The beauty of Water Wipes is in their simplicity. They're perfect for quick clean-ups and diaper changes, and they won't leave behind any greasy residue or unpleasant scent. And for parents who are environmentally conscious, Water Wipes are a great option because they're biodegradable and won't contribute to the buildup of waste in landfills. All in all, Water Wipes are a smart choice for parents who want the best for their baby's skin and the planet.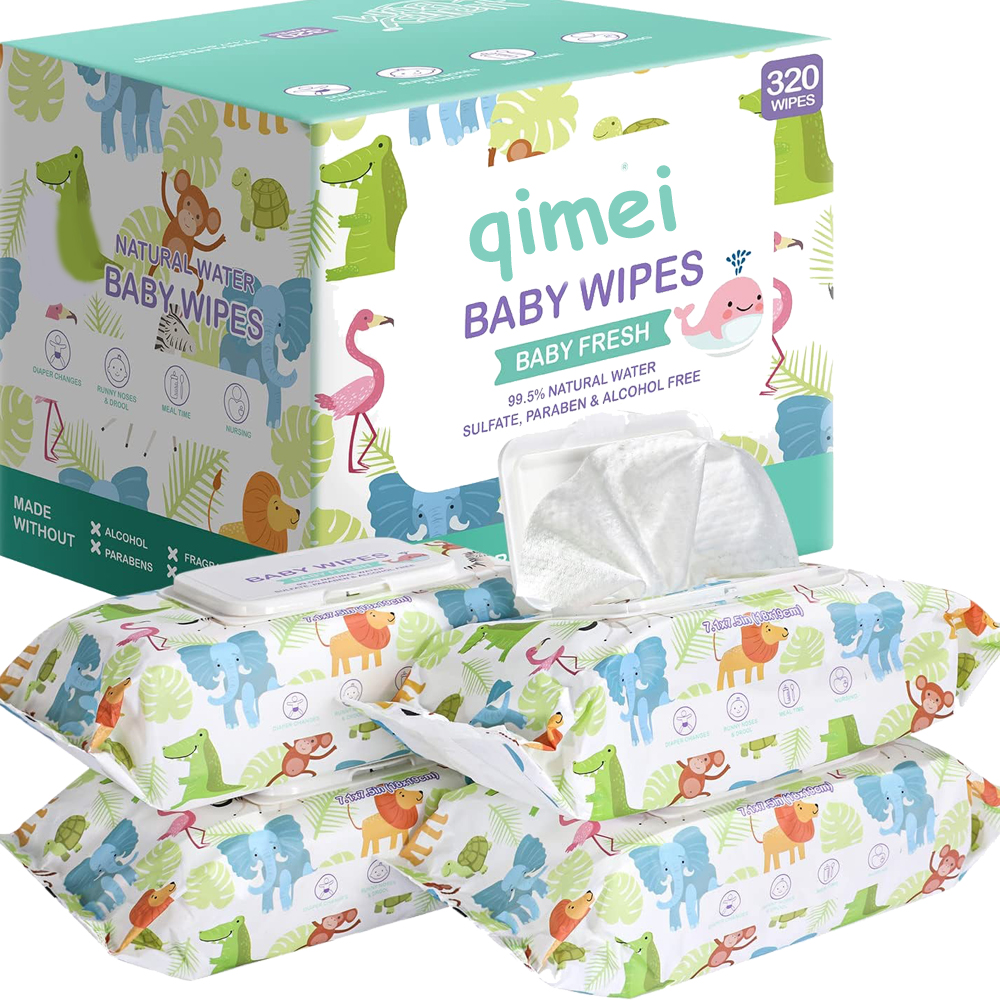 Spunlace Nonwoven, Natural Fibers: Cotton, Rayon, Bamboo and Wood Pul Flat or Textured( Your Own LOGO is available) Grammage: 30-70gsm
---
10/30/80/100/120/160 pcs/pack
The size of baby wipes varies, but the most common size is around 6 x 7 inches.
1. Plastic resealable bag: This is the most common type of wet wipe packaging. It is made of plastic and has a resealable strip on top to keep the wipes fresh and moist. 2. Flip-top lid container: This type of packaging consists of a plastic container with a flip-top lid that can be opened and closed to access the wipes. 3. Soft pack with plastic flip-top lid: Similar to the flip-top lid container, this packaging comes in a soft pack and has a plastic flip-top lid for easy access. 4. Pop-up dispenser: This type of packaging features a pop-up dispensing mechanism that pulls out one wipe at a time. 5. Travel pack: A small packaging designed for on-the-go use, it often comes with a plastic snap closure. 6. Single-use packaging: These wet wipes come in small, sealed packets which are convenient for travel or outdoor activities. 7. Refill bag: This larger size packaging is designed to refill other wet wipe containers, and usually has a resealable opening.
Water wipes are typically formulated with water, They may contain little aloe vera, vitamin E or other nature extra.
1. FDA certificate: This certificate is necessary for any product that comes into contact with the human body or is consumed. If a company wants to sell its baby wipes, it must receive approval from the U.S. Food and Drug Administration (FDA). 2. CPSIA certification: The Consumer Product Safety Improvement Act (CPSIA) requires that all children's products — including baby wipes — comply with specific safety standards. A company must obtain CPSIA certification before they can legally sell their products. 3. ISO 9001:2015 certification: This certification is related to quality management systems specifically. An ISO 9001:2015 certified company ensures that their products consistently meet customer needs and regulatory requirements. 4. GOTS certification: Global Organic Textile Standard (GOTS) is a certification given to organic textiles. Baby wipes made with organic materials may require this certification. 5. OEKO-TEX Standard 100 certification: This certification ensures that no harmful substances are present in the product. It is important for baby wipes as it directly affects the baby's skin.

EDI Utrapure Water Device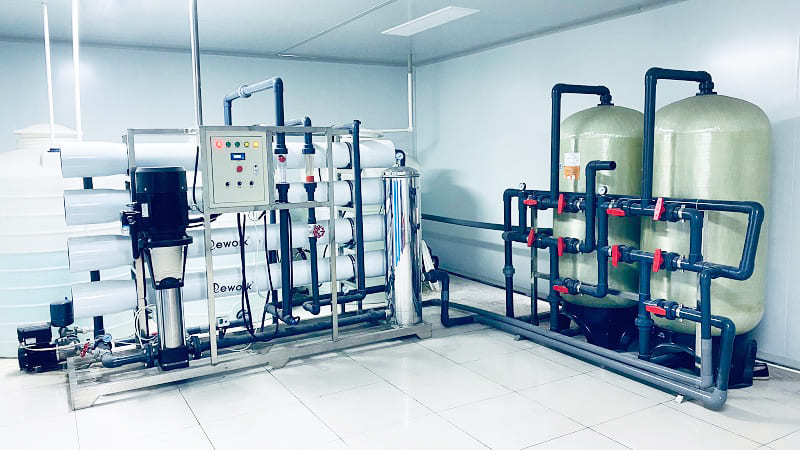 EDI (Electrodeionization) is a process used to purify water to ultrapure standards by removing ions and other impurities. EDI ultrapure water devices use a combination of ion exchange resins and selective membranes to remove dissolved minerals, organic compounds, and other contaminants from the water. The purified water produced by these devices is commonly used in high-tech manufacturing processes such as semiconductor fabrication, pharmaceutical production, and laboratory research.

In the case of water wipes production, EDI ultrapure water can be used to ensure the purity of the water used in the production process. This is important because any impurities in the water can potentially lead to skin irritations or other health problems for babies. The use of ultrapure water can also improve the quality and consistency of the baby wipes, which is important for maintaining customer satisfaction.
Authoritative Certificate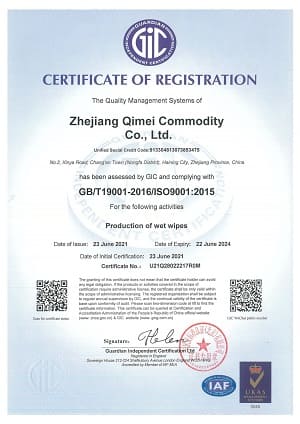 ISO9001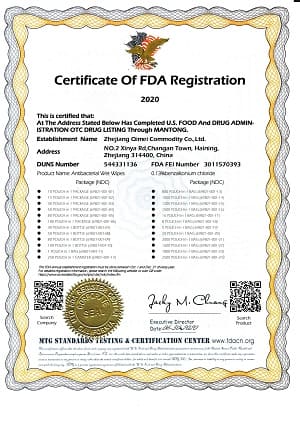 FDA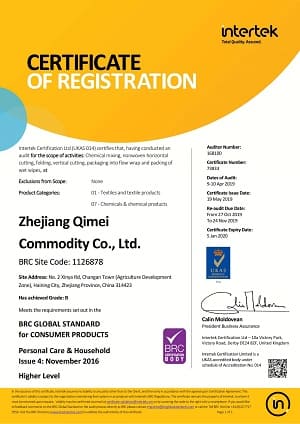 BRC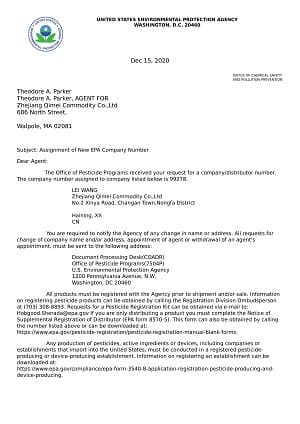 EPA
If you have any question about our products or manufacturing service, kindly fill the form to contact us, we will reply you in 8 hours! 
1
I'm new to the water wipes business, can you help me?
Write us a message right now, we're sure that we can help!
2
What is the MOQ of water wipes?
3
How long to get a sample?
It takes about 3-7 days after receiving your design details and special requirement
4
Can you make */*/*/alcohol free/sensitive water wipes?
We can make all types of wet wipes, we can recommend you details after know about your requirement, or you have your own formulation, we will support free sample service.
5
What is the delivery time?
We may takes little longer for the first try order because of sample confirmation, or we can finished production for 15-20 days after receiving deposit.