A global leader in the Wet Wipes Manufacturing, 20 year's experice of leading brands OEM/ODM service
QIMEI is located in Hangzhou, Zhejiang, with a total area of 50,000 square meters, 3 producting factories with over 300 employees. With advanced equipment, Our production capacity is over 1million packages per day, cover a wide range of applications, including personal care, Baby care, household cleaning, medical care, pet care and industrial cleaning, ensuring that we can meet the needs of our customers.
All of our products are manufactured in accordance with ISO9001 and ISO13485 standards, and we have obtained certifications such as FSC, GMP Cosmetic,BSCI ,ISO22716 and FDA etc.
With years of experience in this industry, we have established long-term relationships with leading brand customers from all over the world, including Europe, North America, South America, Asia, and the Middle East. 


CONTRACT WIPES MANUFACTURING
At QIMEI, we specialize in producing quality wet wipes for various applications, from personal care to industrial and commercial uses. With our years of experience in supplying top brands in the industry, we have honed our expertise in contract wet wipes manufacturing to meet the unique needs and specifications of our clients.
Our state-of-the-art manufacturing facility and advanced technologies allow us to produce wet wipes in various sizes, formulations, and packaging options to cater to our clients' diverse requirements. We also have a dedicated team of experts who oversee the entire production process, from formulation and testing to packaging and shipping, to ensure consistent quality and timely delivery.
If you're looking for a reliable partner for contract wet wipes manufacturing, we are here to help.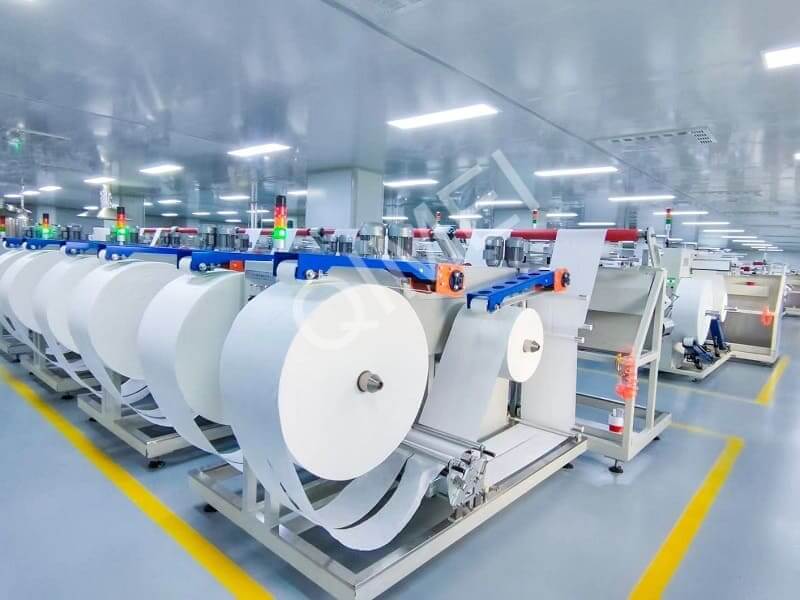 PRIVATE LABEL WIPES MANUFACTURING
Our expertise in private label wipes manufacturing includes:
Custom Formulation: We work closely with our clients to develop a formula that meets their specific requirements, whether that's in terms of fragrance, texture, or functionality.

Packaging Design: Our team of experts can help create packaging that fits your brand's identity, and offers a unique, eye-catching design to stand out on the shelf.

Regulatory Compliance: We adhere to all relevant regulations, including FDA guidelines, to ensure that our products are safe and effective for their intended use.

Flexibility: We can accommodate a variety of order sizes and offer fast turnaround times to ensure that our clients always have the products they need.
With our commitment to quality and customer satisfaction, you can trust us to deliver private label wipes that meet your exact specifications.
At Qimei, we take our clients' confidentiality seriously. We understand that our clients trust us with sensitive information about their company, products, and formulations. Therefore, we pledge to keep this information confidential and secure.
We will not disclose or share any information provided by our clients to any third party without their consent. We also have strict internal policies and procedures in place to protect our clients' information from unauthorized access or use.
We value our clients' trust and confidence in us, and we are committed to maintaining the highest level of professionalism and integrity in all our interactions.
We're experts in all aspects of wipes manufacturing, from raw material sourcing, formulation, packing material, samples, bulk order, quality control, R&D, shipping logistics. Our team has the knowledge and experience to ensure that every wipe we produce meets the highest standards of quality and performance.
Also, we have the privilege to cooperate with some of the top brands in the US market. Our collaboration with these companies has allowed us to develop a deep understanding of customer needs and preferences, enabling us to create products more copetitive price, stable quality, speed delivering, that meet and exceed their expectations. 
As a wipes manufacturer, we understand that different customers have different needs. That's why we offer flexible solutions to meet your specific requirements. Whether you need custom formulations, unique packaging, or specialized testing, we can work with you to create a tailored solution that fits your needs.
Our overseas team also can help you when sourcing other products relevant, We have extensive experience in sourcing personal care, baby care, hygiene and sanitizer products. and we can apply this expertise to help you source other products you may need.
Innovation&Sustainability
We're constantly innovating to stay ahead of the curve in the wipes industry. We invest in research and development to create new products and improve existing ones. Our innovative approach ensures that our customers have access to the latest and most effective wipes solutions.
We're committed to sustainability and environmental responsibility. We use eco-friendly materials and processes whenever possible to minimize our impact on the environment. We also work with customers who share our values and are looking for sustainable solutions for their wipes needs.
I have been working with this wipes manufacturer for over three years, and I am extremely impressed with their level of expertise and dedication to their craft. Their OEM/ODM services for bulk orders have consistently met and exceeded my expectations, and my clients have been thrilled with the quality of their products. Their team is professional, communicative, and always goes above and beyond to ensure customer satisfaction. I highly recommend Qimei.

I am extremely satisfied with the quality of the OEM baby wipes produced by Qimei. As a local brand in Africa, it's crucial to offer reliable and affordable products to our customers. With their exceptional service and top-notch manufacturing process, we've been able to achieve just that.

"I highly recommend Qimei for their exceptional contract manufacturing services. As a health care industry professional, I turned to them for help in producing sanitizing wipes under my own brand, and I was thoroughly impressed with their quick and professional service. While we encountered some minor issues during our cooperation, their team was always readily available to address any concerns and find solutions. Thanks to their expertise and dedication, I am extremely satisfied with the final product."

"Working with Qimei has been an incredible experience. As a newcomer to the pet industry, I was struggling to get my pet wipes business off the ground. Their  team with extensive industry knowledge provided me with invaluable support and guidance, which helped me establish my brand and grow my product line. I am extremely grateful for their expertise and dedication to their clients. I look forward to continuing to work with them in the future."

We've had an excellent experience working with Qimei. Their private label manufacturing services are top-notch, and their team is always responsive and professional. We're thrilled with the quality of the products they've created for us, and we look forward to continuing our partnership in the future.