Established in 2002. Qimei Group are a professional manufacturer of Medical Wipes. By offering various solutions to our customers in both the consumer and service markets, our Medical Wipes products including Oil-based wipes, Water-based wipes, Alcohol-based wipes and Micellar water wipes etc. We have obtained almost all relevant certificates such as GMP Cosmetic, ISO 9001,ISO13485 ,BSCI ,ISO22716 and FDA.
With over 20 years of experience in OEM/ODM wet wipes we are able to work with our clients, leading brands in the USA, together to develop new products with new features such as new synthetic/natural materials or packaging designs etc.
Nonwoven Fabric Type: Polyester,Poly -Viscose Blend material, Bamboo Fiber, Wood Pulp(Flushable), Cotton or Soy Fiber(Biodegradable) Flat or Textured( Your Own LOGO is available) Grammage: 30-70gsm
---
10/30/80/100 pcs/pack
The size of medical wipes varies, but the most common size is around 6 x 7 inches.
1. Plastic resealable bag: This is the most common type of wet wipe packaging. It is made of plastic and has a resealable strip on top to keep the wipes fresh and moist. 2. Flip-top lid container: This type of packaging consists of a plastic container with a flip-top lid that can be opened and closed to access the wipes. 3. Soft pack with plastic flip-top lid: Similar to the flip-top lid container, this packaging comes in a soft pack and has a plastic flip-top lid for easy access. 4. Pop-up dispenser: This type of packaging features a pop-up dispensing mechanism that pulls out one wipe at a time. 5. Travel pack: A small packaging designed for on-the-go use, it often comes with a plastic snap closure. 6. Single-use packaging: These wet wipes come in small, sealed packets which are convenient for travel or outdoor activities. 7. Refill bag: This larger size packaging is designed to refill other wet wipe containers, and usually has a resealable opening.
Olive oil: This is used to moisturize and nourish the skin. It can also help dissolve waterproof makeup. Grape seed: This is used to provide antioxidants and anti-inflammatory benefits for the skin. It can also help tighten pores and improve elasticity. Micellar water: This is used to gently cleanse and hydrate the skin. It contains micelles, which are tiny oil molecules that attract dirt and makeup without disrupting the skin's pH balance. Chamomile: This is used to soothe and calm irritated or inflamed skin. It can also help reduce redness and inflammation. Cucumber: This is used to refresh and cool down tired or puffy skin. It can also help hydrate and brighten dull complexion.
1. Certificate of Analysis: A certificate of analysis verifies that the product meets the required quality and safety standards. 2. Cosmetic Product Safety Report (CPSR): A CPSR is necessary to ensure that the product complies with the safety regulations of the country in which it will be sold. 3. Good Manufacturing Practices (GMP) Certification: A GMP certification ensures that the product is manufactured under hygienic conditions and meets quality standards.

Have any question?
If you got any questions, please do not hesitate to send us a message. We reply within 8 hours ! Don't worry, we hate spam too!
EDI Utrapure Water Device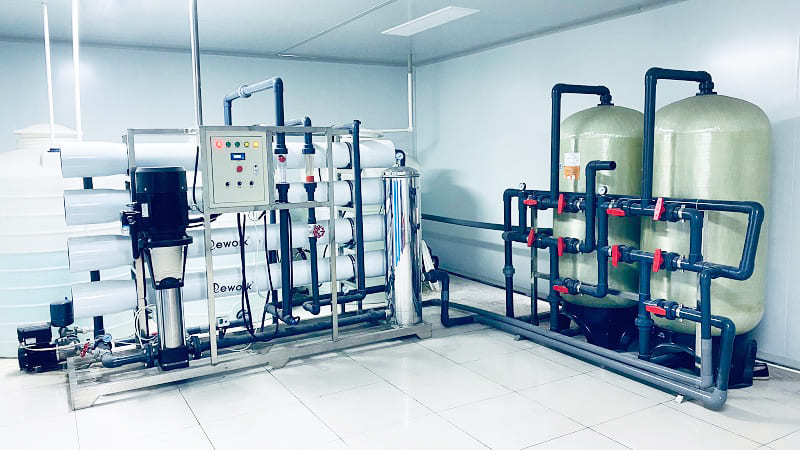 EDI (Electrodeionization) is a process used to purify water to ultrapure standards by removing ions and other impurities. EDI ultrapure water devices use a combination of ion exchange resins and selective membranes to remove dissolved minerals, organic compounds, and other contaminants from the water. The purified water produced by these devices is commonly used in high-tech manufacturing processes such as semiconductor fabrication, pharmaceutical production, and laboratory research.

In the case of makeup wipes production, EDI ultrapure water can be used to ensure the purity of the water used in the production process. This is important because any impurities in the water can potentially lead to skin irritations or other health problems for your skin. The use of ultrapure water can also improve the quality and consistency of the makeup wipes, which is important for maintaining customer satisfaction.
If you have any question about our products or manufacturing service, kindly fill the form to contact us, we will reply you in 8 hours! 
1
I'm new to the makeup wipes business, can you help me?
Write us a message right now, we're sure that we can help!
2
What is the MOQ of makeup wipes?
3
How long to get a sample?
It takes about 3-7 days after receiving your design details and special requirement
4
Can you make */*/*/alcohol free/sensitive makeup wipes?
We can make all types of wet wipes, we can recommend you details after know about your requirement, or you have your own formulation, we will support free sample service.
5
What is the delivery time?
We may takes little longer for the first try order because of sample confirmation, or we can finished production for 15-20 days after receiving deposit.