Wipe away the day and embrace brighter eyes
Eyelid wipes are pre-moistened wipes specifically designed to clean and soothe the sensitive skin around your eyes, helping to remove debris, makeup, and excess oils that can accumulate on your eyelids and eyelashes. These wipes are made from a soft, non-woven material and infused with a gentle cleansing solution containing ingredients such as chamomile, tea tree oil, or aloe vera. Eyelid wipes can be used to alleviate a range of conditions affecting the eyelids, including blepharitis, dry eye syndrome, and meibomian gland dysfunction, as well as for contact lens wearers or anyone seeking gentle and effective eye makeup removal.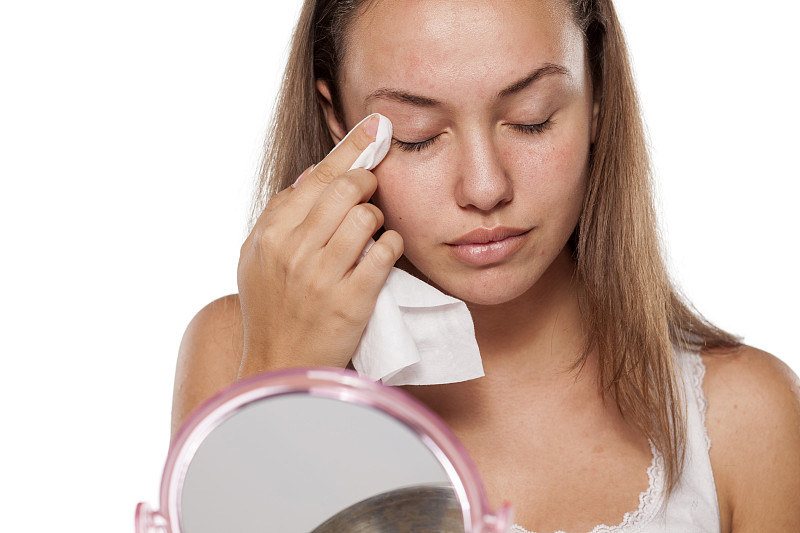 The grammage of eyelid wipes can also vary but is usually in the range of 30 to 60 gsm (grams per square meter). This grammage is sufficient to ensure that the wipes are soft and gentle on the skin but also have enough strength to hold the cleansing solution.
---
10/30/80/100/120/160 pcs/pack
Typically, they range in size from 20 cm x 30 cm (8 inches x 12 inches) to 30 cm x 40 cm (12 inches x 16 inches). However, there may be variations based on the intended use and application of the washcloth. Some manufacturers may offer smaller or larger sizes to meet the needs of specific users or situations.
The number of pieces per inner pack can also vary but is typically between 10 to 30 sachets per pack. This configuration makes it convenient for people to carry a few sachets in their purse or pocket for use throughout the day. The number of inner packs per outer pack can vary as well but is typically between one to six inner packs per outer pack. This allows manufacturers to offer different quantities of eyelid wipes to meet the needs of different consumers.
Eyelid wipes are infused with a gentle cleansing solution that can contain a variety of ingredients, depending on the product. Common ingredients include tea tree oil, chamomile, aloe vera, and hyaluronic acid, which are all known for their soothing and hydrating properties. The solution is designed to remove dirt, makeup, and excess oil from the eyelids and eyelashes while also providing hydration and relief to the skin.
ISO 9001:2015 - Quality Management System certification ISO 13485:2016 - Medical Devices Quality Management System certification FDA clearance - In the United States, the U.S. Food and Drug Administration (FDA) regulates some types of adult washcloths as medical devices, so clearance may be required before they can be sold. CE marking - A mandatory conformity marking for products sold in the European Economic Area (EEA) to indicate compliance with health, safety, and environmental protection standards. REACH compliance - Compliance with the European Union's Registration, Evaluation, Authorization and Restriction of Chemicals (REACH) regulation, which governs the use of hazardous substances in products.

Established in 2002. Qimei Group are a professional manufacturer and supplier of wet wipes and non woven products. By offering various solutions to our customers in both the consumer and industrial markets, our Wet Wipes products including baby wipes, medical wipes, cosmetic wipes, industrial wipes, personal care wipes, household-cleaning wipes, medical wipes, pet wipes and car wipes etc. We have obtained almost all relevant certificates such as GMP Cosmetic, ISO 9001,ISO13485 ,BSCI ,ISO22716 and FDA.
With over 20 years of experience in OEM/ODM wet wipes we are able to work with our clients together to develop new products with new features such as new synthetic/natural materials or packaging designs etc.
Authoritative Certificate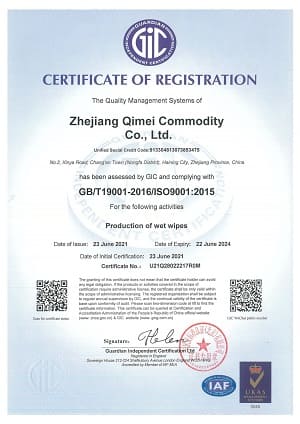 ISO9001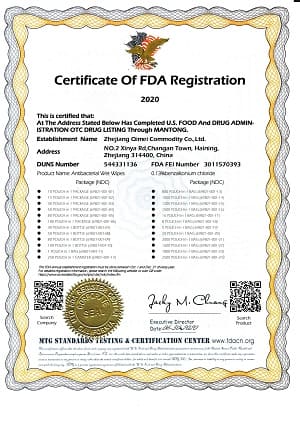 FDA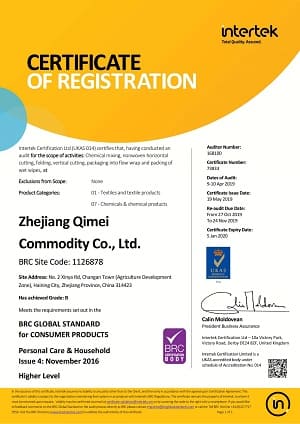 BRC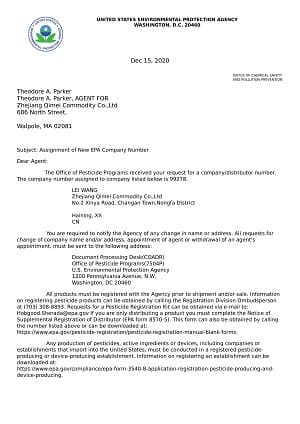 EPA
If you have any question about our products or manufacturing service, kindly fill the form to contact us, we will reply you in 8 hours! 
1
I'm new to the wipes business, can you help me?
Write us a message right now, we're sure that we can help!
2
What is the MOQ of wet wipes?
3
How long to get a sample?
It takes about 3-7 days after receiving your design details and special requirement
4
Can you make */*/*/alcohol free/sensitive wet wipes?
We can make all types of wet wipes, we can recommend you details after know about your requirement, or you have your own formulation, we will support free sample service.
5
What is the delivery time?
We may takes little longer for the first try order because of sample confirmation, or we can finished production for 15-20 days after receiving deposit.